posted by
Administrator
on
Tue, 12/04/2012 - 14:36
Trade Stands will be in attendance.
There will be 10 separate competitions from under 16 to the overall winner.
The Chapter Challenge for 2013 will be a Chair - Details of which are in the Journal
Book  through Tom Dunlop, 0035351421032 using
THIS
form
The Demonstrators
Marcel van Berkel from Holland.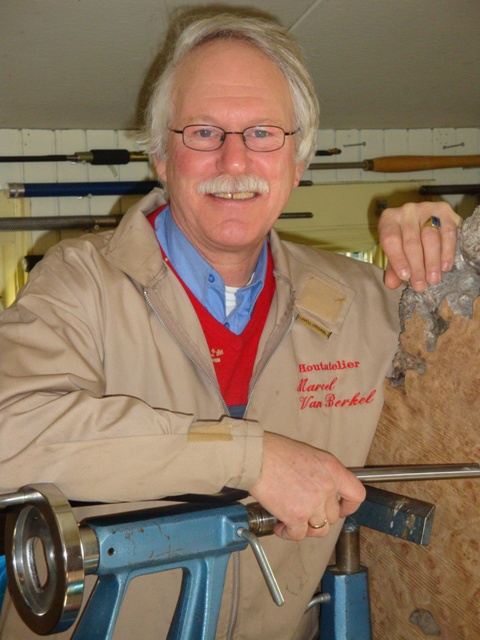 Marcel van Berkel who lives on one of the so called Dutch Wadden Islands named Terschelling, started woodturning in 1993 taking lessons in England and visiting many British shows. He became a full time woodturner in 2001, and mainly demonstrates in Holland and Belgium. Marcel's workshop is situated next to his small gallery where visitors can watch him turn. Marcel specialises in turns open forms from Elm which are heavily carved with Arbotech and Lancelot tools before being burned, brushed, sandblasted and coloured. He also makes sculptural pieces and wall hangings from burrs.
 
From UK, Joey Richardson,
Joey grew up surrounded by trees on a small farm within the heart of Twigmoor Woods in Lincolnshire, England, where her love for wood, nature, fauna and flora developed. She started turning in 1993, taking classes with Chris Stott RPT.  Nine years later her passion for woodturning evolved into a full-time profession and she was accepted onto the Register of Professional Turners, which is supported by the Worshipful Company of Turners of London. In 2005 she was awarded the Company's bursary which allowed her to travel to America and spend time with Binh Pho.
Dennis Keeling
 
Dennis Keeling is one of the few Segmenters in the UK.  He has been turning since he was 9 years old. However, after a lapse of many years he only started turning again in 1995. Dennis started to specialise in segmented turning after spending a week with Bud Latven in 2003 and started to experiment with open segment turning in 2004 after meeting Jerry Bennett. He regularly writes articles for Woodturning magazine and has been commissioned by GMC, the publishers of Woodturning, to write a book on segmented turning. Dennis is a Liveryman of the Worshipful Company of Turners, a Freeman of the City of London and a Director of the Association of Segmented Wood Turners in the USA. He has won many awards for his work at various international competitions including at the IWG seminar at Killarney in 2011.
and Les Thorne.
Les Thorne is a professional production turner from Hampshire.  Having worked in and around timber all his life the progression from sawmilling in to woodturning in the late 1990's was a natural one.  Initially specialising in batch turning his work has now diversified into more teaching, writing and demonstrating both home and abroad. Texturing and colouring has increasingly been appearing more and more in his current work, this is partly due to naturally beautiful timbers being more difficult to obtain with the cost becoming prohibitive. The other reason he states is that it is just a lot of fun and anyone who meets Les will testify to the fact that he just loves turning and helping other people attain there dreams. Les was awarded the Worshipful Company of Turners bursary award in 2007 which enabled him to spend more time some other innovative turners in the UK which has seen his work develop even further.
From Ireland, Joe laird
Joe has crafted quite a number of award winning pieces over the years. His first being: 1st place in the beginners section of the IWG national seminar 1993. It was at this point that Joe realised that he had quite a talent for woodturning. From that point on, Joe's work won award after award as he entered pieces into the intermediate and advanced sections.
In 2005 Joe became a semi-professional woodturner, making commission pieces and teaching adult classes in Hartstown Community School and teens in Kings hospital school.
In 2007 Joe took the final leap and became a full-time, professional woodturner. Joe won the Professional section of the IWG national seminar 2009 and today Joe works out of his purpose built studios in Co Meath, Ireland.
Joe is the Current Chairman of the Irish Woodturners Guild
and Robert O'Connor.
A native of Gorey, Co. Wexford, Robert O'Connor puts a high emphasis on shape and form, the quality of tool work and finish. Robert also likes to incorporate different materials with wood to give individuality. He is a member of the Irish Woodturners Guild and the Crafts Council of Ireland and has his work is on display at exhibitions at various times, as well as at his studio. Robert's Woodturning Studio at Arklow Road, Gorey, offers a showcase for a range of items, from functional pieces to Gallery pieces. From here Robert also offers classes for all levels of student. Robert's numerous awards and prizes include first prize in the RDS Woodturning National Craft Competition in both 2011 and 2012 in addition to the Professional Competition at the Irish Woodturners Guild at Killarney in October 2011.
There will be a full programme on each of the 3 days with more local turners demonstrating.